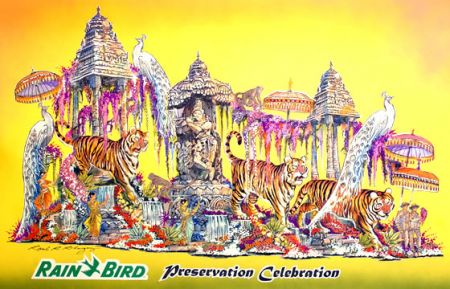 Rain Bird is getting set to deliver a dozed years of participation in the Rose Parade. They are celebrating the world's most precious resource through their 2008 Tournament of Roses(R) Float. Their focus is on bringing awareness to environmental preservation through the use of Intelligent Use Of Water (TM) and they salute India's rich heritage of weaving the Earth's most precious resource into its cultural celebrations.
Rain Bird has also put the following video together that shows the making of their Rose Parade float:
Preservation Celebration will feature a trio of majestic Bengal tigers prowling through India's subtropical jungle as whimsical monkeys demand attention with their antics. Spectacular albino peacocks frolic among eight cascading waterfalls and lagoons in a jungle of exotic flowers, vines and gardens that have claimed the exotic temple ruins of civilizations past.

Jim Hynd and his team of floral experts will bring the Bengal tigers on Preservation Celebration to life using petals of orange strawflower and glossy black onion seed with accents of yarrow, pampas grass and cordon blossoms. The monkeys will be artistically crafted using a combination of combed palm fiber and pharmitas grass. And the Peacocks' feathers will be formed from crisp white carnation petals and coconut chips with flowing tails of purple Madame Pompadour dendrobium orchids.
Cascading vines laden with lavender cattleya and purple dendrobium orchids will be used to create a fantasy canopy over a brilliant tropical jungle floor made from more than 50,000 orange Mirage and Tropical roses. Floral umbrellas in petals of gold and yellow strawflowers will provide spots of shade in this tropical forest, and exotic lush gardens of heliconia, protea, ginger and tropical foliages will complete the magnificent floral presentation.
Utilizing a float chassis specially designed and engineered to safely support the 13,000 + pounds of water that will be prominently displayed on this float, the realistic movements of the tigers will be accomplished with computerized hydraulics, and more than two-dozen high-pressure misting nozzles will enshroud the scene in a light fog as Rain Bird's Preservation Celebration travels down Colorado Boulevard.
Once again, Rain Bird will be depending on their patented Time Release Water irrigation supplement to provide continuous moisture to the live portions of Preservation Celebration, keeping all of the living plants lush and beautiful without additional watering.
A vegetable-based gel-like formula that breaks down into water at a rate that consistently nourishes plants for up to 30-days, Rain Bird's Time Release Water is an ideal "tool" for keeping the live plants on Preservation Celebration healthy, lush and able to be enjoyed by millions of parade goers on January 1, 2008.
In November, hundreds of volunteers including Rain Bird employees and their families began the process of applying hundreds of thousands of fresh flowers and other plant material to Preservation Celebration, a task that consumes a total of 10,000 hours to complete.
The 119th Tournament of Roses Parade marks Rain Bird's twelfth year as a participant in the New Year's Day classic, having won Judge's Special Trophy in 2007, Grand Marshal's Trophy in 2004, President's Trophy in 2000, Director's Trophy in 1997 and Sweepstakes Trophy, the parade's top honor, in 2005, 2003, 2002, 2001, 1999 and 1998.